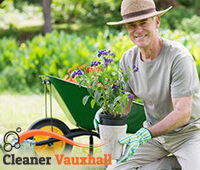 If you have a garden which you need maintained, transformed, improved or cleared, you can rely on our gardeners to do this work. They have the skills, experience and proper equipment to ensure the inviting and pleasing appearance and condition of every garden. Our skilled and qualified gardeners work in the area of Vauxhall every day in the week and are ready to make your outdoor area nice and attractive. They will take care of your plants, whole garden area and pressure wash the paved areas and pathways in it.
Gardening Services in Vauxhall
Prices
Lawn Mowing
£50

£

45

/h
Hedge Trimming
£50

£

45

/h
Tree Pruning

on request
Competent and Skilled Gardeners in Vauxhall
Our gardeners are at your disposal to:
Change the design and appearance of your garden
Clean the wastes and weeds from the garden area
Pressure wash the paved areas in your outdoor areas
Improve the condition of your plants
Look after the trees, bushes, flowers and meadow
Create the garden which you desire
Keep your garden clean and its soil revitalised
Trustworthy Gardeners in Vauxhall
Our gardeners are professionals and can improve the condition of every garden. They will trim the hedges, shape the tree crowns, cut the grass, water the plants in your garden, seed new ones, requested by the customer.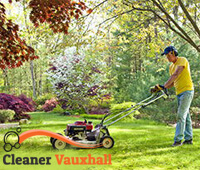 Our gardeners can consult you how to improve the condition of your plants. They can offer you the best solution for every problem which your garden plants have. Rely on our qualified gardeners to make the improvements and innovations which you need in your outdoor home area. The services of our gardeners are available in Vauxhall every weekday and weekend. Our gardeners use safe for the environment and effective weed removal detergents which not inly eliminate all weeds but make sure they don't appear any more. Rely on them to clean your whole garden area of the wastes and pressure wash your walkways, pathways and paved areas.
You can order creating of step and pathways in your garden and we will take care of this. Our gardeners work during the whole week and are at your disposal in and near Vauxhall every day. Get in touch with them by phone, e-mail or online.